Local
D.C. universities build eco-friendly house for wounded veteran
as a competition for student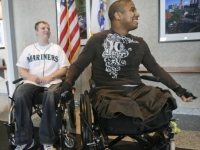 USPA NEWS - Part of and international competition challenges students to build affordable and sustainable housing for wounded veteran's . GW has partnered up with two local universities to build an energy-efficient home for wounded U.S. veteran. Team Capitol DC, begins $300,000 construction Wednesday

Part of and international competition challenges students to build affordable and sustainable housing for wounded veteran´s. GW has partnered up with two local universities to build an energy-efficient home for wounded U.S. veteran.

Team Capitol DC, begins $300,000 construction Wednesday at Catholic U´s campus. Project will bring together students from GW, Catholic University of America, and American University. There will be a group of 75 students which are handy architecture, landscape, and interior designers. The awesome eco-friendly features added are solar panels, a garden and mostly recycled construction material. This one-bedroom house is tailored to the veteran´s needs-including handicap accessible ramps.

There will be a group of 75 students which are handy architecture, landscape,
and communication majors, will continue to work in Northeast D.C. until mid-year 2013. The 800-square-foot house will then be broken down and transported to California in October to compete against 19 other teams in the U.S. Department of Energy´s Biennial Solar Decathlon.
The Solar Decathlon was first hosted in D.C. in 2002, but the competition shifted to Irvine, Calif. this year. The crew of D.C. students, which has partnered with Clark Construction Company, demolished a vacant church in Ohio and brought the materials back to the East Coast for the project.

Such a serious project comes with lots of learning curve at the same time. Will they fail and if they do they´re still learning.

Keywords: Veteran, Eco-friendly, Washington Dc, Dmv, Nation Capitol
Liability for this article lies with the author, who also holds the copyright. Editorial content from USPA may be quoted on other websites as long as the quote comprises no more than 5% of the entire text, is marked as such and the source is named (via hyperlink).
| | |
| --- | --- |
| | Daren Frankish |
| | RAHMA-SOPHIA RACHDI |
| | Ruby BIRD |
| | Yasmina BEDDOU |
| | Aurangzeb Akbar |